STUDENT WEED CONTEST
The 2019 North American Weed Science Contest was a Success!
The 2019 North American Weed Science Contest will be held on Thursday, July 25, 2019, at the BASF Midwest Research Farm, Midwest Ag Research Center of Valent, and Klein Farms near Seymour, Illinois.
These facilities are approximately 10 miles from Champaign, IL.  As with past contests, Wednesday, July 24th will be a travel day. Also, on the 24th, volunteers will meet at the site during the day to review the contest plots and finalize preparations.
An orientation dinner will be held in the evening for all participants to communicate arrangements for the contest. The contest will run from 8:00 a.m. to 5:00 p.m. on Thursday, followed by an evening awards banquet at the Memorial Union Football Stadium on the main campus of University of Illinois Urbana-Champaign.
Below you will find links for team registration, volunteer registration, rules for the contest, including weed and herbicide lists; and hotel information with maps.  If you have questions, please contact Dawn Refsell via email.
Team & Individual Registration: 2019 Weed Science Contest – Participant

COACHES NEED TO REGISTER TEAMS AND INDIVIDUALS SEPARATELY!
Volunteer registration: 2019 Weed Contest Volunteer
Volunteer Paper Registration Form
Participant Hotel information:  Hotel Info.pdf
Volunteer Hotel information:  Volunteer Hotel Info.pdf

Contest Rules and Additional Information can be found here:  National-Weed-Science-Contest.pdf

We encourage you and your students to participate in this year's North American Weed Science Contest (NAWSC). The contest is an excellent opportunity for students to learn and interact with other students, faculty, and industry professionals.
Please be sure to share this invitation with your students, colleagues, and other individuals who may be interested in participating.
We look forward to seeing all of you at the contest in July.
2019 NAWSC Local Arrangements Committee
BASF, Valent, Corteva, Bayer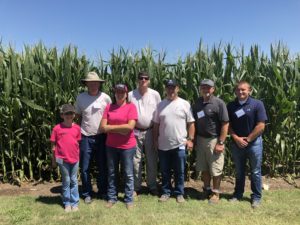 Again, on behalf of the host companies, we look forward to seeing you in Seymour this summer.
Dawn
Dawn E. Refsell
Manager, Field Development, Midwest Commercial Unit
Valent U.S.A. LLC
Mobile (816) 206-3919 Fax (925) 817-5018
2018 NCWSS Student Weed Contest
View the 2018 NCWSS Student Weed Contest Photo Gallery on our Photos Page
---
Video of 2017 Student Weed Contest
Answer Keys for the 2017 Contest
Special thanks to everyone at the Iowa State University FEEL center and to John Hinz for a great contest!